Regular price
Sale price
$12.89
Unit price
per
Sale
Sold out
Bresaola appears to be just like any other Italian cured meat variety. However, it bears some key differences that set it apart from many other offerings. Primarily, Bresaola is made from beef instead of pork. More specifically, it typically is made with meat from the eye of the round cut of the cow, a very lean and tender cut.
Visually, it carries a deep ruby red shading and has very thin lines of marbled fat scattered through it. You'll frequently see it served as thin slices over a bed of arugula. This often draws the description that Bresaola is essentially Beef Prosciutto.
From a flavor perspective, Bresaola differs greatly from cuts like prosciutto. Whereas prosciutto is distinctly smooth and rich with its fat content, Bresaola prioritizes a sweet, aromatic flavor that accentuates the taste of the lean beef it's made from and the spices used to impart flavor notes.
Share
View full details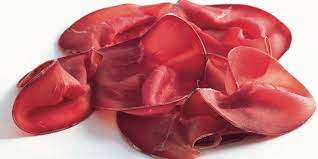 SAME DAY DELIVERY

We offer same day local delivery and pickup as well as shipping nationwide.

QUALITY GUARANTEE

We always guarantee freshness and quality products.

wide selection

We carry a wide selection of cheeses from around the world.